The British Quilt and Stitch Village - compeititon in Region 10 and 11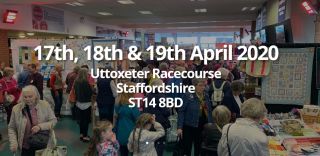 The British Quilt & Stitch Village which takes place at Uttoxeter Racecourse on 17th - 19th April 2020. Uttoxeter is in Staffordshire and is on the border of Regions 10 and 11.
There is a special Young Quilter competition where you can enter any style of quilt - no minimum size and up to the maximum of 90". Open to an individual or group of young quilters up to the age of 18 at the time of entry. There is a special theme for this show, so entries linked to this are welcomed but not compulsory. The theme is 'Bringing Literature Alive with Stitching'. Cash prizes! The show always has a proper prize giving ceremony at the end of the show on the Sunday afternoon where we award engraved Silver Salver and Rosettes for all classes. They always have 2 judges who will give written feedback on each entry.
All details can be found on their website: