YQ AGM Challenge 2018 - Castles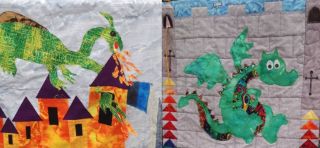 ● Using your imagination, have fun whilst making a quilted item for the theme "Castles". The challenge theme is inspired by Region 15E, where the AGM will take place. Northumberland has many castles. Google 'Alnwick' and 'Bamburgh' castles to learn about their history, but it doesn't have to be a Northumbrian castle - visit a castle near you for inspiration! Think kings and queens, dungeons and dragons to inspire you for this AGM challenge. Check out the YQ website for more information and plenty of ideas. The National Trust and English Heritage websites also have many photos of castles too.
● Size - Individual entries can be up to 60cm (24") in any one direction. Group entries can be up to 1m (39") in any one direction.
● Be as creative as you like. It can be something useful or decorative. You can use any technique – patchwork, quilting, appliqué or a mixture of techniques, hand or machine sewing.
● The age bands for judging will be 5 to 9, 10 to 13, 14 to 18 and Groups.
● Remember this work needs to be made by you but please state if you have received any adult help and how (we understand everyone needs help sometimes)
You can find more information, plus the registration and entry form in the document below.
The deadline to register is 31st January 2018.
Check out our Pinterest page for some inspiration - CLICK HERE