Young Quilters in Region 12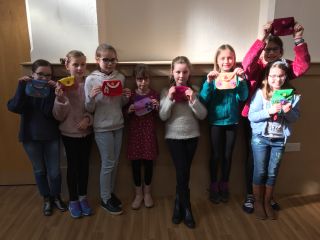 Ten YQs attended February's workshop in region 12! They gained 6 new members so now the region has a total of 22 YQs!
We made felt purses, constructed using blanket stitch and embellished with appliqué and some embroidery. The girls did an excellent job and all finished within the two hour session.
The pattern was amended from a great resource for quilters of all ages - the Young Quilters website. There are lots of patterns here for short projects. Check out the Projects to make page!
Many thanks to Carol Edwards for the large amount of felt donated, Gwyneth Rose for the donation of embroidery threads and to Gill Clark for helping on the day. Thanks again to Carol Davies for help promoting the session and setting up the hall, providing delicious Welsh cakes and a lovely smile!
At our next session we will be making Butterfly Needlecases! Look on the events page for more information.
£4 for non members, £2 for members.
If you would like to book a place or to register interest for further sessions get in touch.
Samantha Jones, YQ Rep samanthajones1105@gmail.com