Young Quilters Crawley Down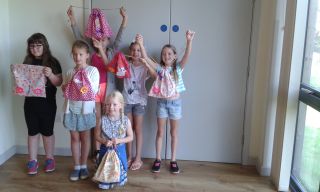 We recently held a workshop making drawstring bags. We had a low take up for this workshop as it seemed that everyone had gone on holiday, however the six girls that came along, had a lovely time, decorating and then assembling their bags.
We had a selection of appliques cut out for them to choose from, and they were also able to add their initials, and thread through a sparkly cord.
They were all really pleased with the result.
By Jayne Hardy