Festival of Quilts YQ/YE Challenge announced! Stitching Through Time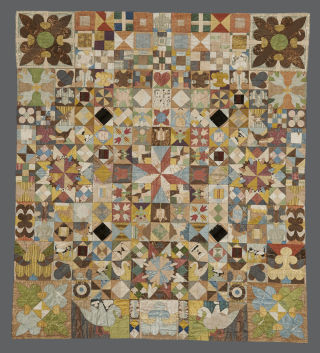 The 2018 competition theme will be 'Stitching Through Time'. This theme has been chosen to celebrate 300 years since The Guild's famous Silk Patchwork Coverlet wad created in 1718. This is the oldest known piece of patchwork in the British Isles - it's very rare!
Why don't you start thinking about what you could create for this theme? Here are a few ideas to get you thinking..
Have a look at the 1718 coverlet in detail - there are many pictures to inspire you! There are many animals - rabbit, deer, dog, lion, cockerel, unicorn, cat, aswell as many birds - goose, swan, partridge! There are many flowers and geometric patterns too. You could use some of these things to inspire your creation!
Another idea could be to choose a moment in history to represent. Do you have a favourite event? Or perhaps you could pick something that happened in the last 300 years!
Do you like the idea of time travel? Maybe Doctor Who can inspire you for this challenge!