Embellishing Greeting Cards by Vlieseline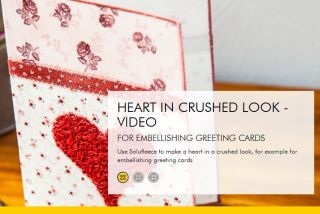 Have a go at creating a heart embellished greeting card using Solufleece!
Watch the video and follow the instructions below.
HOW IT WORKS:
Lay out a layer of outer fabric with the wrong side up and put 2 layers of Bondaweb (without backing paper) on top of the fabric. Then cover this with a layer of Solufleece
Sew all the layers together in parallel by machine.
Move a steam iron above the work (hold the iron approx. 1 cm above the work, do not put the iron onto the work) Use only with adult supervision
Leave the work for an hour and then wash it out.
When dry, iron G 785 onto the back. Cut out a heart and put it onto your greeting card.
Products used for this creation: Solufleece and Bondaweb