Children's Workshop at Festival of Quilts 2018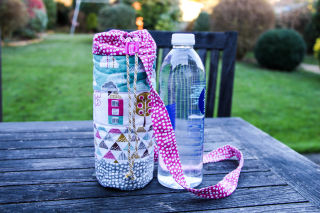 Book your tickets by clicking here

Thursday 10.30 – 12.30
Water Bottle Carrier

Make a patchwork bottle carrier to hang across your body, leaving your hands free!
by Gill Towell
Thursday 2.00 – 4.00
Sew A Season

Choose your favourite season and stitch a small 'quilt as you go' wall hanging to represent it.
by Karen Pearce
Friday 10.30 – 12.30
Summer Time Fun!

Make a small, stitched picture mounted on canvas to hang at home. Use bondaweb and raw edge applique.
by Susan Brown + Joe Bennison
Friday 2.00 – 400
A Magical Snappy Bag!

This little bag will close automatically and keep your things safe and tidy.
by Denise Pearcey + Lorne Taylor
Saturday 10.30 – 12.30
3D Father Christmas

Add to your Christmas decorations with this free-standing Father Christmas.
by Karen Pearce
Saturday 2.00 – 4.00
Colouricious Cushion!

With wood blocks, print beautiful patterns onto fabric with Jamie Malden of 'Colouricious'. Then sew your printed fabric into a cute cushion!
by Heather Chalkley
Sunday 10.30 – 12.30
Crazy Patchwork Bird

Create your own piece of crazy patchwork to make a bird to hang up wherever you like.
by Rosemary Smith
Sunday 2.00 – 4.00
Pencil Roll and Project Pouch

Sew two useful, colourful items to keep your pencils and other things together.
by Hilary Jackson + Sarah Humphreys